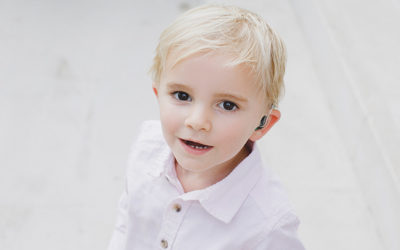 "We call Henry our miracle baby. We had 2 babies within 13 months so we decided we would wait awhile before growing our family. However, Henry was destined to be our baby and had his own timing despite our plan. So 16 months after our second child, we were blessed with little Henry. Our home was wild with 3 under the age of 3, but Henry added so much joy to our family and still does.
He is the sweetest snuggler and loves to give and receive affection. He has also earned the name Hurricane Henry because he is very strong, determined and has no fear of heights, speed or the word "no"… it's quite terrifying to this mom but he likes to push the limits. He has mastered riding his bike and scooter and can run and jump like we can't believe. He is so fun to watch and has the most vibrant smile when he conquers the next challenge.
Henry passed his newborn hearing screening so we were not aware of his hearing loss until about 7 months ago. He was very vocal and always talking but we had a very hard time making out what he was saying. My husband had an intuition that something may be off, so at school drop off he mentioned it to the teachers who agreed with his concern, as did Henry's pediatrician. They did testing in their office and then referred us to an audiologist.
The tests there came back inconclusive, they did not specialize in children, but they still recommended we go for further testing. I called to get an appointment at a place they recommended and was told they did not accept our insurance and did not have any other place to suggest in Tulsa. I called the audiologist back where we had started and told her we didn't know what we were going to do. I mentioned we had an upcoming move to Oklahoma City and she strongly urged me to call Hearts for Hearing.
I called right away and had the most wonderful conversation with one of the employees. Among the confusion and heartache of what we were facing, she made me feel so comfortable and welcome. I could not wait to get in to meet the staff. I believe everything happens for a reason and moving to OKC was a big change for our family, but if it weren't for the move we wouldn't be at such an amazing facility and Henry may not be excelling at his speech and socialization like he is today.
We are beyond proud of our miracle baby and cannot wait to watch him soar at every challenge that lies ahead. We are beyond blessed that he gets to be a part of the Hearts for Hearing Preschool Program."
– Emily Lyon (Henry's Mom)
To make a donation to help more children like Henry who have hearing loss, click here.